The Next-Generation of Shared Micromobility Launching in New York City, Powered by Vulog.
Vulog, the world's leading platform for shared mobility services, today announced a partnership with JOCO, a newly-established micromobility company based in NYC.
NEW YORK. April 22, 2021 -- Vulog's platform will power a fleet of premium shared e-bikes launching with 30 stations in Manhattan and soon to grow to more than 100 stations across New York. Unlike traditional micromobility, JOCO is the first shared operator to launch with a network of stations on private property and out of the public right-of-way.
Empowering social entrepreneurs and cities
This launch is just the latest example of Vulog empowering social entrepreneurs to deploy new, city-friendly shared mobility services. JOCO will use Vulog's AiMA platform to interface with customers and manage the fleet. The service will complement CitiBike, allowing New Yorkers to access a network of top-quality Acton Nexus e-bikes via Vulog's white-labeled app. E-bikes will be picked up and returned to JOCO stations located in office buildings, hotels, apartment buildings, and more.

Micromobility use has skyrocketed in the past year, with many discovering the advantages of getting around via electric bike. As cities reopen, travelers reluctant to get back on transit are looking for reliable alternatives. According to research, shared electric micromobility could serve more than 1 million daily trips in New York City, yet existing options satisfy less than one-fifth of that demand. Vulog helps entrepreneurs like JOCO launch new ventures to meet micromobility's potential, bringing mobility amenities to employers, property owners, and local businesses in the process.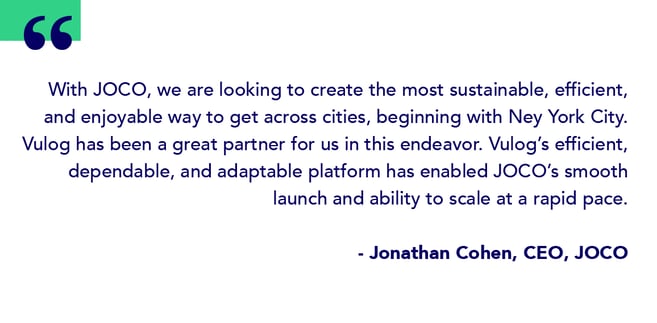 At the heart of the mobility revolution
Vulog's AiMA platform provides the technology required to launch and operate next-generation shared mobility services, including advanced fleet management tools, consumer-facing apps and websites, and industry-leading integration capabilities. AiMA is a SaaS platform currently used to power everything from on-demand bike and moped sharing to multi-month car subscriptions and vacation van rentals. Vulog's partners can launch a range of mobility offerings on this single platform, avoiding siloed deployments and allowing users to match the mode with the trip conveniently. AiMA powers over 20,000,000 million trips annually by multiple operators and automakers.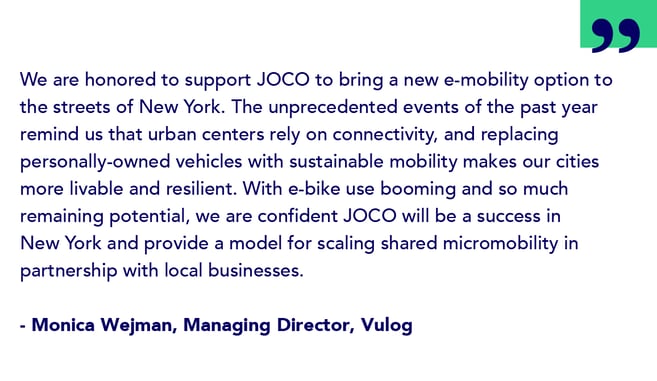 New York City property owners interested in adding a JOCO station should get in touch through the JOCO website - ridejoco.com. After its NYC launch, JOCO will use Vulog's platform to expand to additional US cities. In addition to growth alongside JOCO, Vulog forecasts a pivotal year for shared electric mobility, with at least five major shared mobility launches in the US alone.