Big things are happening in Berlin! Joschi Jennerman from Volkswagen's WeShare talks about new challenges and opportunities.
For this edition of The Shared Journey, we sat down with Joschi Jennermann, COO of Berlin-based WeShare, Volkswagen's 100% electric fleet. WeShare, composed of over 1,500 e-Golfs, recently announced the launch of their new subscription service WeDrive. Together, we discussed the challenges and opportunities facing mobility, the impact of Covid-19 on fleet management, and the importance of adding more use cases to complete your mobility offer.
Joschi, could you introduce yourself, your role at UMI/WeShare?
My name is Joschi and I am the COO of WeShare, Volkswagen's shared car service currently operating in Berlin, Germany. The last two years have been quite exciting: pitching the concept, first prototyping & testing, setting up the company, developing the service, and now seeing the service live and running since summer 2019. I am very proud that today we are close to 100k customers that saved more than 1.700kg CO2 emissions by using our service.
What brought you to work in the mobility industry?
In my early career I was working for companies where I haven't really had any emotional touchpoint to their products. As a result I didn't enjoy my work as much. When I started to work at Volkswagen, it was the opposite! Even though I wasn't a "car guy," I enjoyed working in mobility because everyone interacts with "mobility" everyday. Mobility presents an interesting dilemma because on the one hand, people want to move, and they have to move, but on the other, how they are moving is not really efficient, it's not green or easy. Seeing that there is so much room for improvement is a big motivation for shaping the future of mobility.
Tell us more about the origin story of WeShare.

Volkswagen was looking for ways to address new mobility needs. I was on a small team within VW that pitched different ideas, one of which was electric carsharing. The idea itself was nothing really new. At that time, carsharing had existed for around 10 years. It was more about what made sense for Volkswagen as a step in the directions towards new mobility. With the WeShare service, we were able to combine what VW is good at, the development and production of new electric vehicles, but then using them for a new service in a growing market. That was the story we sold and it seems that it was done successfully.
The e-Golf was actually a good starting point for us because most of us know the Golf as the car everybody used at VW. It's a nice transition! You're in a Golf, you are familiar with the layout of the car, but now it's electric. With many of our customers we got the feedback that it's the first time they used an electric vehicle and then they really liked it because it's fun, it's easy to use, and it's not complicated to charge.
When you say charging is not difficult, do you have partnerships with certain companies? In comparison to other large cities, are there more charging stations?

The public charging infrastructure in Berlin is comparably good. Within our operating zone, we have around 700 public charging points. But having in mind that more and more people also on a private level decide for e-mobility and professional e-fleets like car sharing are further growing this can only be the beginning. We will face a constant shortage of infrastructure in the future years. Therefore, we have some cooperations, for example with the Schwarz-Gruppe (Lidl) where we can charge our vehicles also with fast chargers overnight.
This supports us in having a smart and efficient charging concept, that releases the pressure of using public infrastructure.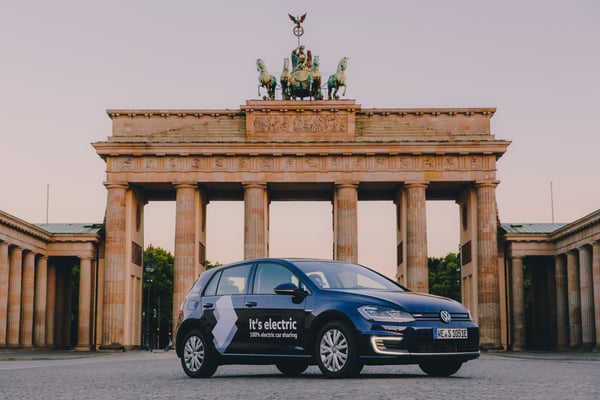 What are some of the achievements you are the most proud of?

If I have to choose one thing, it's the right balance we found the last year between speed, failure acceptance and quality. That mix is not always easy – having Volkswagen in the background as a company that strives for 100% perfection.
Describe your typical customer. Who are they?
We have a diverse range of people using our service. It shows that WeShare is well positioned in a way that many can identify the brand with their lifestyle. When we break it down, we see that our most frequent users are the people between 30 and 40. The generation I belong to – having a high and flexible demand of mobility but at the same time having the intension to move as sustainable as possible.
When they are using WeShare, is it typically for commuting or for one time trips?
We have mainly two types of user trips: one is short trips. I do see this is the classical freefloating car sharing use case, you have to go from A to B e.g. commuting to work, to the train station or to your next business meetings.
The second trend that we have witnessed is that our clients also use WeShare for day trips. We promoted this use case a lot and had some cooperation with nice vacation spots surrounding Berlin. For example, in our social media channels we gave some nice inspiration for lakes nearby to visit. Those collaborations encouraged customers to use the WeShare vehicle to go escape the city for the day. We offer a day rate of 49€ and had such success that now in the winter months we will continue with similar initiatives to inspire for a nice day outside of Berlin.
When you talk to your customers, what do they love about WeShare?
They really like the e-Golf as it is easy to use. Regarding our digital user experience, our app focuses on the most important features, rather than functionalities you don't need, and has a really nice UX. Putting the entire user experience together, you have an easy registration process, an intuitive app, and finally, the e-Golf. The experience showcases the easiness of e-mobility, underlined by you moving through the city without any noise or pollution.
Compared to other mobility options, parking can still be a hurdle for shared car users. How does WeShare ease the parking process for your end user?
We've started to show available charging stations in our App. So, the customer can easier find a free parking spot and earn some credits by plugging in our car. And we obviously have some less work with that as well. But no doubt, the biggest help for car sharing users would be if cities would provide more space for sustainable mobility solutions and create dedicated carsharing areas for parking and charging. The message would be easy: Use a sustainable mode of transport and we will give you an advantage compared to others.
Could you talk a little about WeShare's role during confinement, because we saw that you were offering special services to the first responders I believe, what was that like?
Many car-sharing companies were facing the same challenge. Covid was coming up, nobody knew what was happening and was surprised by the heaviness of the lockdown and the effort that was needed to tackle the pandemic.
When the lockdown started in Germany, of course we saw a strong drop in the usage. But we saw there was a certain base, and one reason for that was because early on we approached hospitals and NGO's and offered our service. We decided to do this because, first, we felt it was important to give back to our community, which was facing severe challenges and issues. Second, there was also a pragmatic need on our side to keep the fleet running. If you're not moving a vehicle for a long time, then you run into several operational issues such as high parking costs or low 12V-batteries.
As the lockdown became less strict, we began to see that people started moving again but chose more individual modes of transportation. Carsharing became a valid option. Within a few weeks we had a higher use rate than before the confinement and it has grown continuously since. During this time, I think a lot of people realized that car sharing is a valid and reliable additional transportation option.
You recently announced "WeDrive", your subscription service, and we were wondering if you could walk us through what that is, how that works for the user, and why it was important for you to add the subscription service to your existing offer?
This also is a result of the pandemic since people changed their mobility behavior towards longer drives and more individual modes of transport. WeDrive is more or less a short-term leasing: it allows a user to rent one of our vehicles exclusively for 449€ per month with all fixed costs included. By choice you can add extras like home-delivery etc.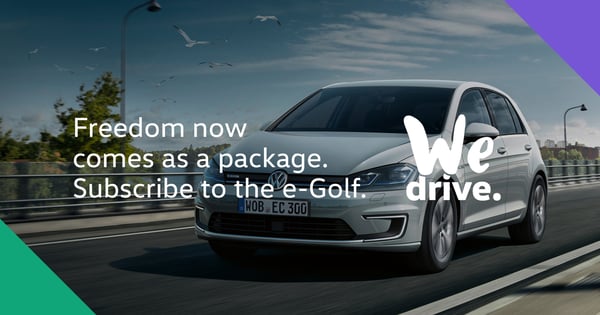 From the beginning on, our motivation is to facilitate multiple use cases for our customers. "Whenever you need a vehicle, whether it's for a few minutes, for a few days, or for a few months, we can provide it to you." Perhaps an existing user has some change in their daily life because they switched jobs or just had a baby. With the subscription offer, we are able to still offer this same customer our service even though their needs have changed, meaning we keep this customer. Our subscription offer is a consequent step towards our strategy is to continuously add more and more use cases and enhance our overall mobility offer.
The WeDrive project was also a nice example for dealing best with the given situation. Our regional expansion is slowed down for the moment, so we focused our energy on use case expansion, that resulted into launching WeDrive in just a few weeks.
What are the next steps for WeShare?
It has always been the plan to expand WeShare in two directions: one is regional and to reach international cities, and the second one is adding more use cases. With the regional expansion, we got some challenges due to Covid-19, which is why we are for the moment focusing on adding more and more use cases to our existing business, so that people can benefit from our service, regardless of the purpose of their trip. Fingers crossed, life will "normalize" again and we will be able to catch up with our original ambitions in scaling.